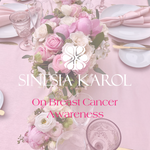 Hello Everybody - 
I am so excited to start a Blog! Here I welcome you all into the world of Sinesia Karol! I am excited to share stories about my family, cooking and recipes, traveling, philanthropic endeavors, and more! For me, Sinesia Karol is more than a brand, it is a lifestyle. My Brazilian heritage is important to me, and this blog is how I hope to share the warmth and authenticity of me as a person and my culture.
As most people are aware October is Breast Cancer Awareness month, so I would like to begin by writing about this. My husband and I are long time supporters of BCRF. We believe that the research we fund will bring us closer every day to a cure. The sole mission of BCRF is to prevent and cure Breast Cancer by advancing the world's most promising research. They are doing so much amazing work both in the US and around the world, with some of the brightest and most talented Doctors in the industry. I am one lucky girl to be part of their organization!
I would like to take this time to talk a bit about preventing Breast Cancer because unfortunately, it doesn't stop - not even in a Global Pandemic. Keeping up with medical care is very important, so don't allow the fear of Covid-19 to prevent you from scheduling routine doctor's appointments. Of course, it is normal to feel stressed and have anxiety during a pandemic, especially if you are scheduling a medical appointment, but scheduling your mammogram is important, as early detection saves lives. The American College of Radiology has created a graphic showing what to expect when you schedule your appointment, and for most radiology care, your risk of exposure to Covid-19 is extremely low. So don't be afraid! Early detection can save so many lives. Let's take care of each other!