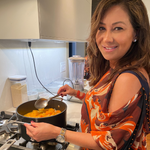 Join us for a Q&A with our Founder, Sinesia Karol! She shares her favorite Thanksgiving recipes, hosting tips, and more!
Questions:
You are from Brazil; what year was your first USA Thanksgiving? And what did you do? 
Sinesia:
My first Thanksgiving was in 1990. Coming from Brazil, where we don't celebrate Thanksgiving, I didn't know much about American culture and Thanksgiving. So I decided I wanted to invite some friends to my house. The only thing I knew about Thanksgiving was that I had to figure out how to cook a turkey!
Question:
How will you be celebrating Thanksgiving? Are you a guest, or are you doing all of the cooking this year? 
Sinesia:
I am very excited about this Thanksgiving. I will be with my entire family. My four kids are coming home, and I have several friends (who are now family!) from near and far over my house to celebrate. I absolutely love to host, and I will be doing all of the cooking!
Question:
What's your favorite side dish for Thanksgiving? Does your family eat turkey, or do you have another tradition? 
Sinesia:
My two favorite dishes are sweet potatoes and squash soup. I have my own special recipe for both.
Question:
Ok, that sounds delicious! Will you share the recipe with us?
Sinesia:
Of course!
Butternut squash and carrot soup:

Ingredients 

1 small butternut squash,peeled and cut into cube

2 cups thinly sliced carrots 

3/4 chopped onions 

2 tbsp Oliver oil

4 cups chicken stock

1/2 tbsp salt

1/4 freshly ground pepper 

1/2 tsp dried thyme

1/2 ground ginger

Instructions

1. Peel and chop butternut squash into 1-2" cubes. Set aside.

2. Peel and thinly slice carrots and set in bowl with butternut squash 

3. Peel and chop onions and place in bowl with squash and carrots.

4. In a large,heavy bottomed saucepan pour the olive oil.

5.add In chopped vegetables, salt and pepper and sautéed for 10 minutes, stirring often.

6. Pour chicken stock and bring to a boil over medium-high heat stirring occasionally 

7. Reduce heat to medium and simmer for 25-30 minutes until squash is very tender

8. Using a blender, carefully pour the mixture and process/blend for 1-2 minutes until soup is creamy 

9. Return soup to cooking pot and heat to almost boiling. Add additional chicken stock if a runnier soup is desired.

I also love to add sautéed Canadian bacon. I usually cut into small little pieces.
Question:
You are such a beautiful hostess. Do you have any tips for first-time hosts/hostesses? 
Sinesia:
Yes, the most essential part of being a hostess is making sure you have fun and not stress about the little details beyond your control. Thanksgiving is meant for family and friends to come together. Enjoy these special moments, and don't ever take them for granted.
Question:
What will your tablescape look like this year? Do you have a favorite flower or color scheme for Thanksgiving?
Sinesia:
For the table decor, I love to have a simple centerpiece. I love to play with lots of yellow and orange colors for the flowers because they are perfect for Fall. Last year I did add some white pumpkins, and they looked so beautiful!