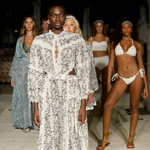 Sinesia Karol 2022 Collection Show, Miami Swim Week 2021
Last week, Sinesia Karol kicked off Miami Swim Week with an intimate presentation of her 2022 Florais Collection. After the presentation, guests enjoyed an elegant dinner on top of the newly opened Goodtime Hotel in South Beach.
Anyone who knows Sinesia Karol, knows she loves her garden. Her garden and her flowers provide Sinesia with inspiration and creativity, which she shares with us in her gorgeous 2022 Collection. Sinesia curated the evening and presentation as if her guests were in her garden, followed by an elegant dinner party outside on a warm evening.
The Collection features exclusive floral prints alongside pretty pastels and electric blues. The styles offered an elegant aesthetic that is both feminine and modern. From one-pieces to bikinis and ready-to-wear, pieces included various intricate cutouts, bold ruffles, high waists, one-shoulder, bandeau tops, and figure-flattering cutout detail silhouettes.