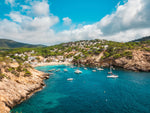 Sinesia's Summer Essentials
From growing up in Brazil to her constant travels to warm locales, not to mention being the founder of a swimsuit brand, Sinesia Karol knows a thing or two about living your best life during the summer. she really knows how to do summer right. We tapped Sinesia to reveal her must-haves for everyone's favorite season. 
Favorite Summer Travel Destination: Ibiza
Ibiza is my favorite place to travel to in the Summer and I just love my days there. I especially love to discover the parts of Ibiza that are off the beaten path that no one talks about. Everyone knows it's a great place to party, but it also has quiet parts where you can just play golf and relax. I love that you have the option to enjoy the fun, crazy aspects and also the serene parts. 
Favorite Summer Recipe: Gazpacho 
I love to make gazpacho in the Summer. It's so refreshing and easy to make. Plus it's delicious. It's easy to make and it's delicious. 
Anyone can look beautiful; the Arieta is made for all body and shapes. It has kimono sleeves and a high hem for a perfectly sexy look that it great for summer. 
 I just love it. 
Favorite Summer Read: The Hotel Nantucket by Elin Hilderbrand
This is a fabulous book. I love that it throws in some local references to Nantucket so it's really fun to read. 
Favorite Sunscreen: EltaMD and SkinMedica 
I have used both EltaMD and SkinMedica for several years and I see a huge improvement in my skin during the summer. I love that they are both super light and absorb easily into my skin.
Favorite Summer Beauty Product: Dior Lipgloss
During the summer, I  can't live without my Dior gloss. It gives me the perfect pop of color and leaves my lips shiny and plump. It comes in so many colors so you can find one that best fits your skin tone.