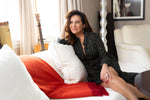 Brazilian Designer and Collector Sinesia Karol Has a Leg up on Swimwear
Karol was 20 then and had just left home for college in New England. Growing up on the islands off of Brazil, she was used to a different approach. "There, it doesn't matter your body type; you wear whatever you want. People don't care."
She had, at that point, long since fallen in love with the classic Brazilian bikini cut: low on the hips, high on the cheeks. But American women preferred a different cut, one that sat higher and covered more of the bottom in fabric. For her, it was emblematic of the tenuous, under confident way many American women feel about swimwear in general. That disconnect was, for her, where the seeds of her swimwear line were first sewn—literally. In 2010, she began working on what would become her signature—swim suits and cover-ups that merged art and fashion, style and comfort.
"I wanted to create a line that catered to the type of woman that likes to cover everything, one that also appealed to my Brazilian friends and the European women living in the United States who could never find a bathing suit that fit the way they like," Karol says with her Portuguese lilt, each word rolling into the next. "I wanted to create a line that allowed women to embrace their bodies, in a positive way. And most of all, I wanted to create something beautiful."
Not surprisingly, it was a tough needle to thread. But after two years of research and collaborations with artists, thread it she did. And people took note. The day the company launched in June of 2012, Bergdorf Goodman acquired her line. Within 24 hours, she had invitations to do fashion and trade shows in Miami, New York, and elsewhere. "Everything I dreamed of accomplishing, I did in two weeks," she says, as if still in disbelief.
The company has changed a lot since then. But so, too, has fashion, says Karol—especially women's swimwear. Social media has put the trend cycle in another gear, and women—even those conservative Northeasterners—are a little bit more willing to put themselves out there than they once were. For Karol, it means more work. Whereas her company used to introduce two new collections a year, it's now churning out five. On the flip side, she notes, there's more freedom. "We can be more playful now, try new, fun things," the designer says. "To be honest, I think it's changed for the better."
Part of Karol's success is surely tied to her relatability. "I think she understands the lifestyle of the modern woman—multi-tasking, managing different things at once," says Nancy Adams, a Boston- based accountant who has been close friends with—and a dedicated customer of—Karol for more than a decade running. "She's a mother to four children, like me. I'm always impressed by her ability to switch seamlessly from running around in mom clothes during the day to black tie beautiful for an event that night."
In addition to selling her wares at places like Bergdorf and Saks Fifth Avenue, she now operates brick-and-mortar stores in Boston, Brazil, and Greece and is currently working on adding lines for both men and children to her platform, both of which she's hoping to have out this fall.
More and more, Karol has looked to the art world for creative inspiration, a habit that dovetails with her passion for art. When she and her husband bought their house outside of Boston, they decided to leave the walls white and rely only on art for color. They've since amassed a collection of more 130 works, including pieces by Andy Warhol, Sol LeWitt, Philip Guston, Dale Chihuly, and Carlos Páez Vilaró.
"I look for art that speaks to me and the way I live," she says, before going on to explain that she doesn't like the word "collector" because it sounds like a storage operator. "I can't separate art from fashion; they walk side by side in my mind. I get so much inspiration by looking at and admiring a perfect art piece."
TAYLOR DAFOE
07.03.2019
PHOTOGRAPHY BY MICHAEL BLANCHARD