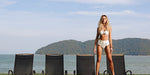 Brazilian Designer Sinesia Karol Is Bringing Sophistication To Swim
Brazilian-born Sinesia Karol launched her eponymous swimwear line in Boston when she discovered a niche in the market: a line that brought the Brazilian spirit of the bikini stateside. Upon her relocation to the United States, Karol learned that American women had a different attitude toward swim that in her home country where more skin than fabric is the norm seaside. Her beach and swimwear line focuses on comfortability without sacrificing elegance. Case in point: the brand's perfect high-waisted bottom bikini. Here, the designer shares the beginnings behind the brand, her favorite secret beach in Brazil, and more.
What is your favorite beach?
I have so many, but my favorite is Trancoso in Brazil. It is a very rustic, bohemian, music, and visual art community. It's fun when you're on the beach and just as much fun when you're off the beach. There is a hidden gem called Praia do Espelho, which means Mirrored Beach, where the water is reflective and stunning; it is simply my favorite place to relax and enjoy the ocean.
What is your favorite thing to do pre- and post- beach?
Beforehand, I like to work out and then have a nice breakfast at Uxua. After, I will walk around town find one of the small bars that have amazing musicians and have a drink with friends and family.
Do you prefer the pool or the beach and why?
Both. The pool if I'm hanging with my husband, friends and sipping rosé. It's like that phrase, rosé all day. The beach, if it's family time and I'm with my kids.
What do you always bring to the beach?
Nice big towels. They need to be comfortable. I designed this big comfortable neoprene beach towel with one of our original prints that is great if I just want to hang out, read, or talk to friends.
How does your favorite beach inspire your work?
Simple, natural beauty always inspires me. Peaceful long beaches where people can take long walks, breathe and be happy. I also like to people watch, and look at everybody's different, wonderful body shapes.
How would you style your swimsuit from the beach to a night out?
All you need to do is pair it up with one of my cover-ups, some nice local accessories, and a great pair of flats or espadrilles, and you have your outfit ready to go for dinner, lunch, or play.
What is your ultimate do and don't at the beach?
Do respect the sun by using skin products, a hat and sunglasses. Don't play your music too loud, talk too loud, or drink too much alcohol.
Which swimsuit reference has influenced you most?
The 1960s. The high waist is my favorite. I love a beautiful one piece, as well. They are super sexy and make any woman look amazing.
What are you reading this summer?
We'll Always Have Summer by Jenny Han